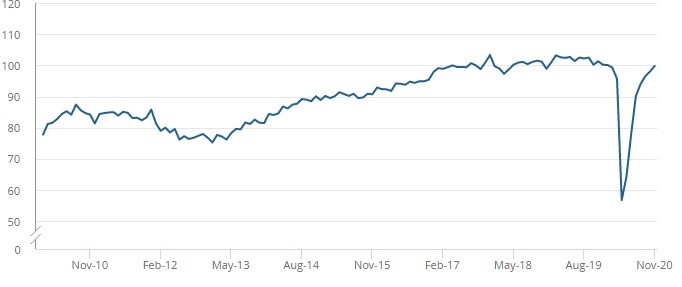 ONS survey data suggests that the construction industry continues to recover in November, something we feel on the ground as our plant and equipment hire continues to pick up from the Covid lows.
The headline was that output grew 1.9% from the previous month, with new work increasing 3.5%. Interesting it was Public spending which continues to lag, which fell by around 2.5%.
This theme continues in the IHS Markit data, which suggest that it is residential building which is driving the sector, with commercial and civil work falling behind. This survey was less encouraging, showing that construction is expected to contract from January again, although only slightly.
More concerning is their findings of why this is occurring, which are not simply Covid issues. There are major delays in getting materials due to congestion at UK ports and also rising costs of steel and timber especially are creating cost pressure. I do not see these issues resolving itself as the broader economy improves, if anything they may get worse.
We are certainly feeling cost pressures in our purchasing of new equipment, driven not only by the price of steel, but also by the increasing complexity of meeting emissions requirements. Excavators, dumpers, rollers have all increased in price, and even telehandlers, where sales collapsed last year, have seen price rises!
More info can be found from the ONS
https://www.ons.gov.uk/businessindustryandtrade/constructionindustry/bulletins/constructionoutputingreatbritain/november2020
And Construction Index on the IHS Markit survey
https://www.theconstructionindex.co.uk/news/view/purchasing-survey-suggests-construction-activity-starts-to-slow
Back to News